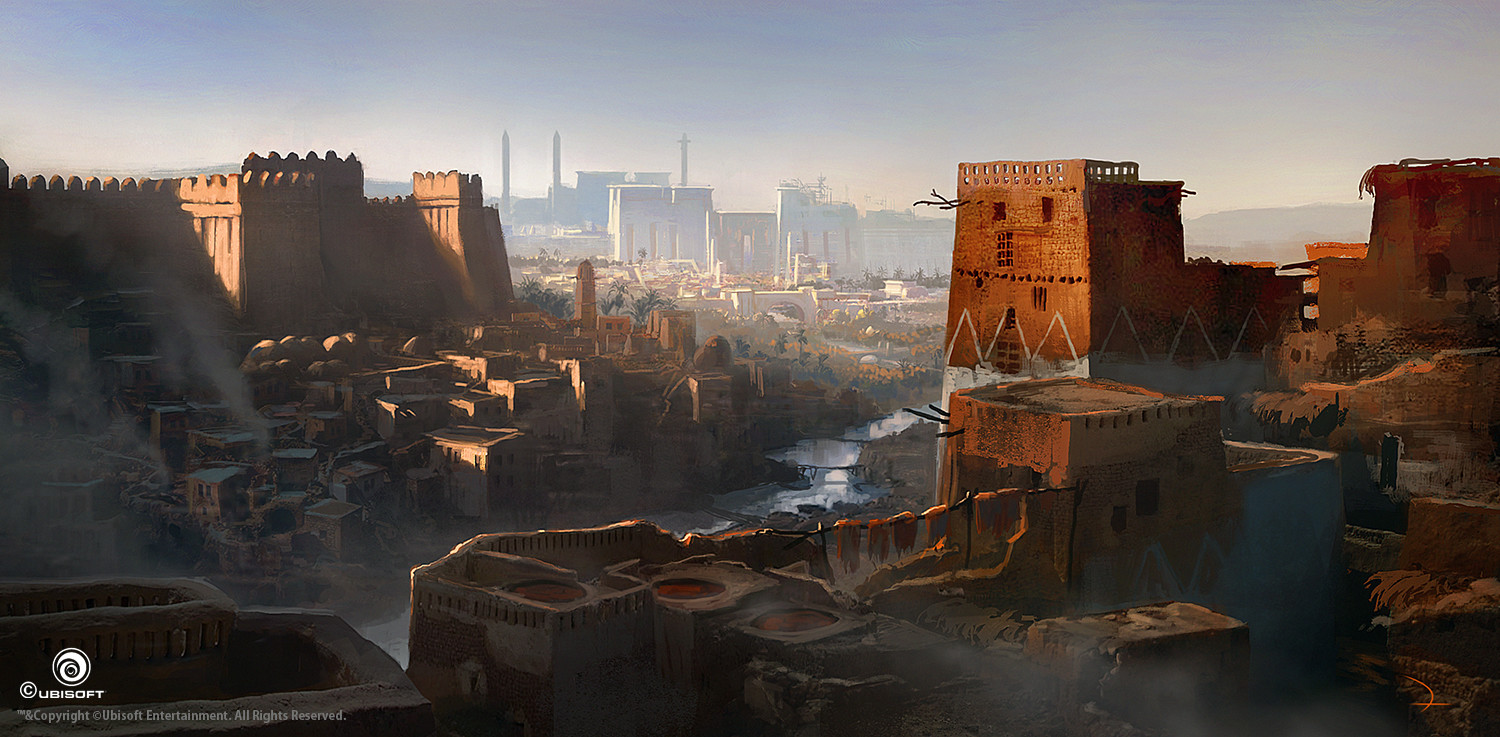 In one ancient world, the human empire of Khemet has thrived for thousands of years. Pharaoh Ramses II has been blessed by the gods, but the world beyond his rule teeters on the brink of a dark age. Can a band of orphans find their fate, retrieve dangerous relics, and become heroes?
Non-Player Characters in the city of Mennefer (Memphis) in New Kingdom Egypt, as of Session 45.27, 20 May 2019/"the month of Thoth and the start of the flood in Year 53 in the reign of Pharaoh Ramses II/14 April 1226 B.C.E.:"
Bel: male Khemtian pesedjer (Egyptian human), young boatman who worked with Nile River bounty hunters (defeated) and taken on as an acolyte by Farooq
"The Viper:" male Egyptian human Khebenti (Rogue), suspected crime lord renting a townhouse to the "Talons of Tanis" in return for surveillance of Kaphenu (see below)
Kaphenu: male Egyptian human, Ghazi of Maat (Cleric of fate), assistant magistrate, watched by the "Talons of Tanis" on behalf of "the Viper"; later learned to be swapping places with his kinsman via magical disguise
Ramira: female Egyptian human Qedeshot (Cleric) of Bastet, cat-headed goddess; met with Zyren
Kasmut: female Egyptian human Hakima (priestess) of sun deity Amun-Re; spoke with Farooq about carvings about Hakahotep (see below)
Abdallah: female Egyptian human Beqenu (Fighter), captain in the city watch at Fort Tephu, told Zikak about the "Order of the Blue Feather," which is hoarding knowledge
Muminofra: female Egyptian human Shenu (Bard), "fan bearer to the emperor," has large appetites and effectively overruling local government; charmed Smrithi into hunting for a bulette and a hippopotamus
Khabekh-shu: male Egyptian human Hekai (Sorcerer), met Maketre on Muminofra's pleasure barge and told him about citywide chariot race; later slain and revealed as member of the Order of the Blue Feather
Sekek: female Egyptian human Hakima, deaconess of Ptah at library, met near tophet (large frog statue); took charge of surviving assassin (see below) from Farooq
Deka an-Kheret: female Eseteri Hakima (Elf Cleric), chief librarian; gave Smrithi access to the Vault of Hidden Wisdom
Hakahotep: male Egyptian human, "forgotten" or "sky" pharaoh of the late Old Kingdom; deceased?
Akentepe: male Egyptian human Beqenu, general who fought Hakahotep and was buried (with curse of Plague of Madness) in Tanis
Chisisek: male Ptahmenu Elimashadi (Dwarf Wizard), architect of the "Black Pyramid," possibly built atop ancient ziggurat in the eastern wastes on Pharaoh Hakahotep's orders; said to make it fly; sigil: 2-headed owl
Khnenti: male Egyptian human archivist and member of the Order of the Blue Feather, entombed beneath main library, said to have been punished for delving too deeply into Hakahotep's secrets
Tholurutu: male Djinn Khebenti (air elemental Rogue), described as a "demon" in graffiti in library; asked "Talons of Tanis" for help freeing sister Udjebet
Udjebet: female Djinn Khebenti, would-be thief freed from petrification by Farooq
Assassins: 4 male Egyptian humans; attacked the "Talons of Tanis" as they exited the Dark Depository; defeated, along with bone golem, hell hounds
Retrieved from the "Dark Depository" of the main library in Mennefer (Memphis):
Armor, +1 leather
Blueprints, partial, of ziggurat reconstruction (the "Black Pyramid" in the Eastern Wastes), signed by architect Chisisek (2-headed owl) during the reign of Hakahotep (the "Forgotten" or "Sky" Pharaoh) — copied by Khafre
Cash: 120 kites (gold pieces, or about 30 g.p. each)
Crossbow, heavy, +1 repeating — claimed by Khafre
Daggers, 4, with fullers or grooves for poison
Disguise kit
Oil versus Raise Dead — given previously by Djoser, priest of Anubis, to Khafre
Poison, wyvern venom, 4 doses — covertly claimed by Zyren
Potion, Blur — claimed by Zikak?
Potion, Cure Serious Wounds — held by Zikak
Rapiers, 2 masterwork
Scroll describing ritual of Soul Binding — studied by Smirthi
Scrolls: Bestow Curse, Blight, Contagion (Zyren), Finger of Death, Shield of Faith
Kamala/"Gamal:" [Dana S.]: female Anpur Kama'at (Jackal-woman Druid), nomad investigating inhabited ruins to the east of Mennefer; won chariot race with Farooq (Khafre placed second); LNg, Lvl. 6
"Speedsters of Set" [Bruce K./N.P.C.s]: 2 male Egyptian humans, team that cheated in chariot race but still lost
"Pazuzu's Wheels" [Brian W./N.P.C.s]: 2 Assyrian humans, chariot team that placed last in citywide race
"Sutekhra Ship" [Drew S./N.P.C.s]: Gnome gadgeteer chariot team, separated during race, but still finished
Cultists of the Forgotten Pharaoh: 2 Egyptian humans, entered race late but defeated along with Khabekh-shu
Prince Khaemwaset: male Egyptian human Ghazi, one of the sons of Pharaoh Ramses II (brother of the Medjai's Mentuhotep and Khanefru, new nomarch/governor of Tanis), designer of the Serapeum, labyrinth of the Apis bull
(See also The Mummy's Mask 3: Shifting Sands for Pathfinder 1e, among other sources.)
The "Talons of Tanis," Player Character Party 43 in Gene D.'s "Vanished Lands: Journey From Khemet" Egyptian fantasy campaign, using Dungeons & Dragons, Fifth Edition, as of summer 2019:
"Meketre Kenamon" [Beruk A.]: male D'mt Pesedjer Bahati (Ethiopian human Monk-Kensai), outsider, partial amnesiac, and weapon master from Punt; LNg, Lvl. 6
"Khafre Maa Keru" [Byron V.O.]: male Khemtian Pesedjer Ghaffir (Egyptian human Paladin) of Anubis, god of the dead; sage sworn to an oath of vengeance; with pharaoh hound Sulbandi; LGn, Lvl. 6
"Smrithi" [Brian W.]: male Pesedjer Hekai (Egyptian human Sorcerer), Djinn-touched wild mage and charlatan; CGn, Lvl. 6
"Zyren Akahlay" [Bruce K.]: male Pehesset Shenu (Half-Elf Bard), sometime criminal and member of the College of the Sword; CGn, Lvl. 6
"Farooq Fairbottom" [Rich C.G.]: male Ptahmenu Ghazi (Dwarf Cleric), priest of sun god Amun-Re; with banuq (winged cat); NGl, Lvl. 6
"Zikak" [Drew S.]: male Aarakocra Khebenti (bird-man Rogue), inquisitor in the Medjai (secret police); LNg, Lvl. 6