Fellow role-players, here are notes for Session 43.44, which was held online on Monday, 23 March 2020:
In one ancient world, the human empire of Khemet has thrived for thousands of years. Pharaoh Ramses II has been blessed by the gods, but the world beyond his rule teeters on the brink of a dark age. Can a band of orphans find their fate and become heroes?
The "Talons of Tanis," Player Character Party 43 in Gene D.'s "Vanished Lands: Journey From Khemet" Egyptian fantasy campaign, using Dungeons & Dragons Fifth Edition, Skype, and Rolz.org, as of spring 2020:
"Meketre Kenamon" [Beruk A.]: male D'mt Pesedjer Bahati (Ethiopian human Monk-Kensai), outsider, partial amnesiac, and weapon master from Punt, with three Wakyambi (Elf) followers; LNg, Lvl. 8
"Khafre Maa Keru" [Byron V.O.]: male Khemtian Pesedjer Ghaffir (Egyptian human Paladin) of Anubis, god of the dead; sage sworn to an oath of vengeance; with pharaoh hound Sulbandi and acolyte Serethet; LGn, Lvl. 8
"Smrithi" [Brian W.]: male Pesedjer Hekai (Ebir human Sorcerer), Djinn-touched wild mage and charlatan; with vulture familiar Walracham; CGn, Lvl. 8
"Zyren Akahlay" [Bruce K.]: male Pehesset Shenu (Half-Elf Bard), sometime criminal, member of the College of the Sword, and worshipper of Bast; CGn, Lvl. 8
"Farooq Fairbottom" [Rich C.G.]: male Ptahmenu Ghazi (Dwarf Cleric), priest of sun god Amun-Re; with banuq (winged cat) Liriel and acolyte Bel; NGl, Lvl. 8
"Zikak" [Drew S.]: male Aarakocra Khebenti (bird-man Rogue), inquisitor in the Medjai (secret police); LNg, Lvl. 8
"Whaka Tu Hinga" [Liam O.]: male Anpur Bequenu (Gnoll Fighter), folk hero and Eldritch Knight; wary protector of his tribe in the wilderness; NGl, Lvl. 8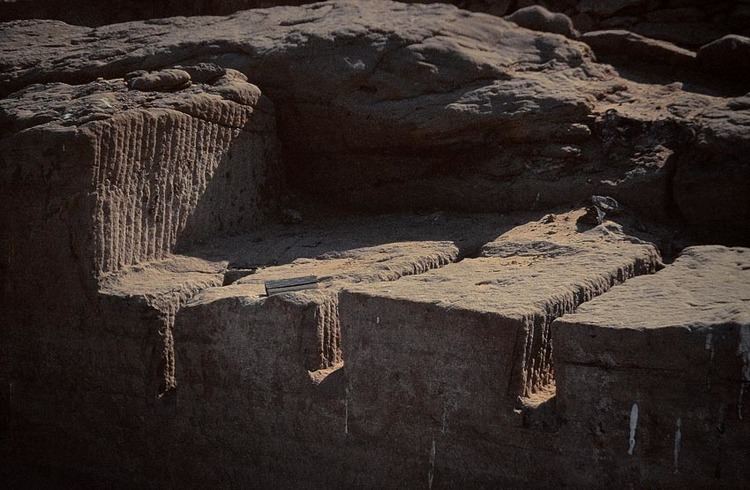 "1 June 1226 B.C.E., or Day 1 in Athyr, the third month of the flood in Year 53 of the reign of Pharaoh Ramses II:"
After thwarting an attack by various cultists on the annual Opet festival in Waset (Thebes), the "Talons of Tanis" pursued the flying capstone of the Black Pyramid to maze-like quarries northeast of the city.
The young champions of Khemet and their foreign friends planned to stop more followers of the Forgotten Pharaoh, Hakahotep. Farooq hoped to return home to Tanis, and Zyren learned of a monastery of Bast needing help on the way. Thanks to winged Zikak, the "Talons" bypassed much of the haunted slave trenches at the quarry, finding statues to the Ennead (core Egyptian pantheon) and Khai-utef, a sphinx-like creature with a vulture's head and wings and the body of a lion.
After negotiating with the guardian beast, the adventurers found piles of bones and sand, as well as a mysterious stone disk. They also awakened "the Tribe Eater" — a mummified dinosaur!
The "Talons" swiftly destroyed the monster and found a network of tunnels carved during the Old Kingdom. They narrowly evaded an acid fog trap and descended. Humanoids Zikak and Whaka led the way, followed by armed Meketre, Zyren, and Farooq. Spellcasters Smirthi, Raoun, and Bel stayed in the middle, with mighty Khafre defending the rear.
A statue of Apep speaks, saying that intruders "are not worthy to gaze upon the works of the Sky Pharaoh!" Its eyes glow, blinding everyone but Farooq, Zyren, and Smirthi. Farooq uses a Wand of Restoration to heal Zikak, who continues forward as the others recover.
At another subterranean intersection, the explorers find statues of the Akhumen, six aides to Hakahotep. Acolyte Bel begins casting Detect Magic but realizes that any ritual might activate necromantic traps. Farooq casts Sanctuary on himself and stands in the passage as Meketre, Zyren, Zikak, and Whaka go to check out side corridors. Each one is strangely tempted to draw his weapon.
The Bahati (Monk), Shenu (Bard), and Bequenu (Fighter) find a cell with magical wards, which the Khebenti (Rogue) disrupts with the Dwarf's stonemasonry tools to find a crumbling corpse and a fine robe.
Down another hallway, they trigger another sigil, summoning a Sand Elemental. Zyren falls back and readies a spell and Whaka follows. Zikak fires his crossbow, but the bolts pass through the Outsider. Meketre releases water from his Endless Decanter, but the elemental dodges it.
The extraplanar entity blasts Meketre and reaches for Zyren and Zikak, who both manage to dodge its crushing grasp. Zyren and Whaka cast Scorching Ray and Fire Bolt, and Meketre finishes it off with a Flurry of Blows and unarmed strikes.
The spelunkers regroup and enter a large crypt. A sarcophagus is adorned with the image of a beautiful archer, and the walls show suffering supplicants. Dusty hieroglyphs tell the tale of Jeshura, a priestess who had served Hakahotep until she betrayed him in anger over his choice of her sister to be his queen.
Asserting that an enemy of the Forgotten Pharaoh could be an ally, Zyren and Meketre push aside the heavy stone lid, finding iron spikes embedded in a non-mummified corpse. Upon exposure to the air, the woman sits up and draws breath, her body resuming its voluptuous form, but with blue skin and horns.
Jeshura demands that her liberators explain where she is, and the "Talons" tell her of the centuries that have passed and of Hakahotep's return. Smirthi and Raoun theorize that Jeshura was transformed by being trapped between planes of existence, while Meketre recalls memories of resurrection.
The onetime queen of Kho explains that she was initially banished for her jealousy to the then-frontier, where she mastered hunting and diseases. She admits to trying to kill the pharaoh, but she was captured and magically imprisoned. Farooq persuades Jeshura to accompany the group to fight Hakahotep, and she agrees. Zikak and Khafre are wary of the horned woman.
The would-be heroes of Khemet then find the tombs of the Akhumen. Zikak disables a series of magical locks. The team decides to leave the six chambers alone and spikes the doors shut.
In another large chamber, the "Talons" see walls covered in glowing scarabs. Thanks to his helm of True Sight, Raoun perceives that only one beetle is not an illusion, as well as three doors. After a brief scramble, the scarab is captured and used in a matching depression to unlock the doors. Four blue-skinned Undead attack.
Eseteri (Elf) Zyren casts Blur on himself, as pesedjer (human) Raoun hurls twin Ice Knives. Pesedjer Meketre and Aarakocra (winged humanoid) Zikak miss with arrows and crossbow bolts, respectively.
Anpur (jackal-man) Whaka swings his scythe, while pesedjer Smirthi casts Thunderwave. The Greater Ghuls claw at Ptahmenu (Dwarf) Farooq, who invokes Amun-Re for Radiance of the Dawn. Farooq's follower Bel casts Bane, and pesedjer Khafre reluctantly takes rearguard.
Zyren hits the Undead Janni with his swords, as does Meketre with fist and blade. Raoun destroys one with Dragon's Breath, but Zikak's quarrels go astray. Whaka's Firebolt finishes another Ghul, as Bel's Wand of Disruption dispels a third. Farooq uses Burning Hands and Sacred Flame to return the last unquiet dead to the Underworld.
The "Talons of Tanis" enter another large cell, where they see a statue of Hakahotep holding a brass sphere with a model of a city. They also meet Agazuberi, a djinni who has been bound as guardian. She says the group must parley or fight.
As with Jeshura, Farooq offers Agazuberi her freedom in return for aid against the Forgotten Pharaoh's followers. However, the djinni says there are no loopholes in her contract, and she adds that the newcomers can not leave. The doors swing shut behind them.
Jeshura recognizes the city model as the capital of Kho and angrily asks Agazuberi why she is guarding it. The djinni reveals herself as a fallen one, and the "Talons" ready for another battle….